An important book on the life and work of the world Greek Mikis Theodorakis entitled "Mikis Theodorakis-RELIGION MY IS GREECE» (Микис Теодоракис, «Моя религия - Греция») George Logothetis circulating in Greek and Russian languages ​​will be presented in special event on Monday December 19 2016 the Benaki Museum.
Στην εκδήλωση που διοργανώνουν οι Publications Spyrou and Miletus Publications and held under the auspices of the Culture & Science Center of the Embassy of Russian Federation in Greece, will welcome the Mikis Theodorakis. greeting will also address a representative of the Russian Embassy, ​​Mr. Ioannis Tzen, πρόεδρος του Ελληνορωσικού Συνδέσμου Φιλίας & Συνεργασίας και ο κ. Christopher Sardelis, Πρόεδρος της ΕΘΝΙΚΗΣ ΑΣΦΑΛΙΣΤΙΚΗΣ, χορηγού της ρωσικής έκδοσης. Για την έκδοση θα μιλήσουν ο κ. Costas GeorgousopoulosMr. Antonis Roupakiotis, Ms. Maria FarantouriAnd the author George Logothetis. The coordination of the event will be Mr. Spyrou Evangelos, Editor-journalist. During the event will be shown video-documentary with testimonies of friends Mikis Theodorakis from Greece and other countries.
Η εκδήλωση όπως προαναφέρθηκε, θα πραγματοποιηθεί σήμερα Monday December 19 2016 Benaki Museum, Koumbari 1 and Sofias - Time 19.30.
Πληροφορίες: Publications E. Spiros 210 3221525, ext. 3 (n. Kaltsoni Georgia).
See the invitation: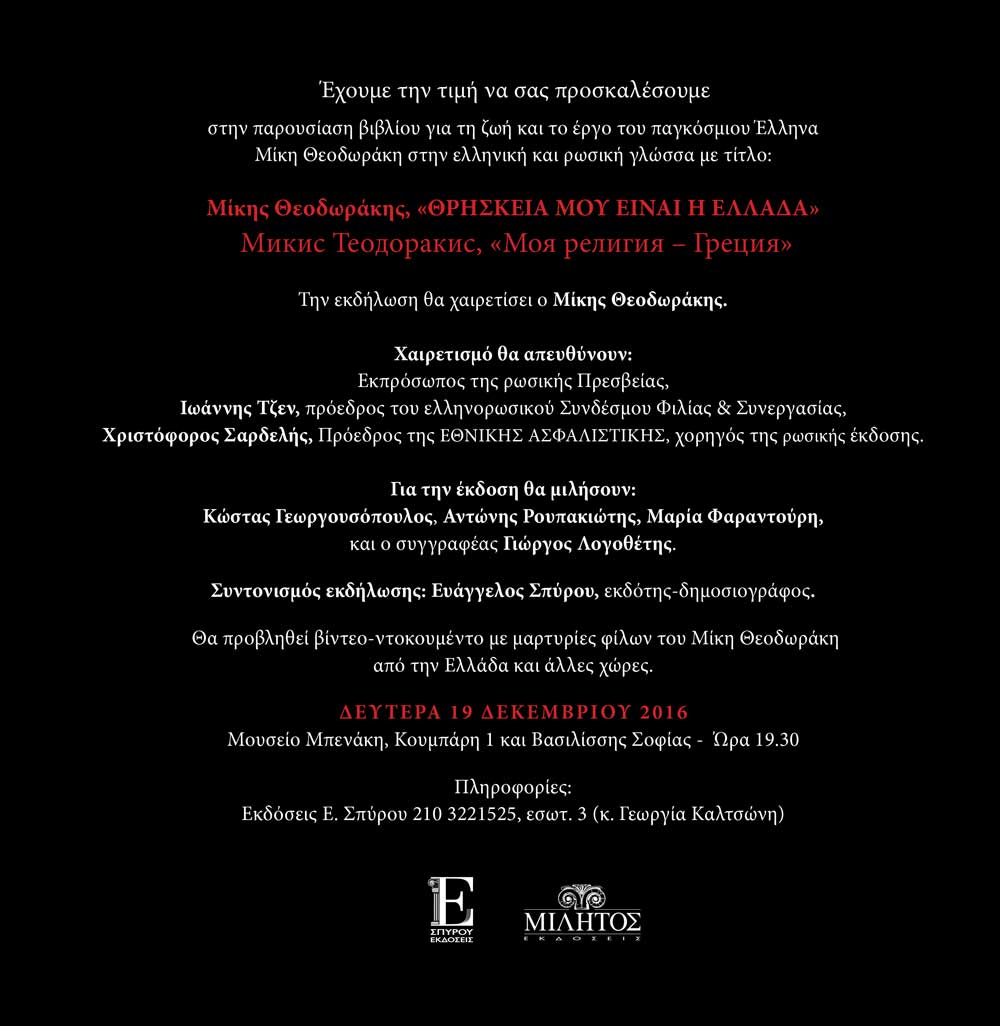 They wrote about us ...
theodorakism.blogspot.gr – Σήμερα η παρουσίαση του βιβλίου «Μίκης Θεοδωράκης, Θρησκεία μου είναι η Ελλάδα» στη ρωσική γλώσσα!!
naftemporiki.gr – "Mikis Theodorakis - my religion is Greece '
kathimerini.gr – Τα δωρεάν της εβδομάδας
euro2day.gr – Παρουσίαση νέου βιβλίου για τη ζωή του Μίκη Θεοδωράκη
kerdos.gr – Παρουσίαση νέου βιβλίου για τη ζωή του Μίκη Θεοδωράκη
rizospastis.gr – BOOK For the life and work of Mikis Theodorakis
iskra.gr – "Mikis Theodorakis - my religion is Greece '
protothema.gr – «Μίκης Θεοδωράκης, Θρησκεία μου είναι η Ελλάδα»: Παρουσίαση νέου βιβλίου για τη ζωή του
vradini.gr – Mikis Theodorakis-MY RELIGION IS GREECE
haniotika-nea.gr – Book presentation for Mikis Theodorakis in Athens
edipt.gr – ΠΡΟΣΚΛΗΣΗ ΠΑΡΟΥΣΙΑΣΗΣ ΒΙΒΛΙΟΥ «Μίκης Θεοδωράκης, Θρησκεία μου είναι η Ελλάδα»
tff.gr – Μίκης Θεοδωράκης: Θρησκεία μου είναι η Ελλάδα
flash96.gr – «Μίκης Θεοδωράκης, Θρησκεία μου είναι η Ελλάδα»: Παρουσίαση νέου βιβλίου για τη ζωή του
clickatlife.gr – «Μίκης Θεοδωράκης, Θρησκεία μου είναι η Ελλάδα» του Γιώργου Λογοθέτη
mykosmos.gr – "Mikis Theodorakis - my religion is Greece '
attikos-sfygmos.blogspot.gr: Publications Spirou and Miletus Publishing present the book "Mikis Theodorakis, my religion is Greece» Giorgos Logothetis
kolivas.de – Παρουσίαση του βιβλίου: Μίκης Θεοδωράκης, «ΘΡΗΣΚΕΙΑ ΜΟΥ ΕΙΝΑΙ Η ΕΛΛΑΔΑ» στην ελληνική και ρωσική γλώσσα
polispost.com – "Mikis Theodorakis - my religion is Greece '
Click on the images to enlarge:
Loading
ΔΗΜΟΚΡΑΤΙΑ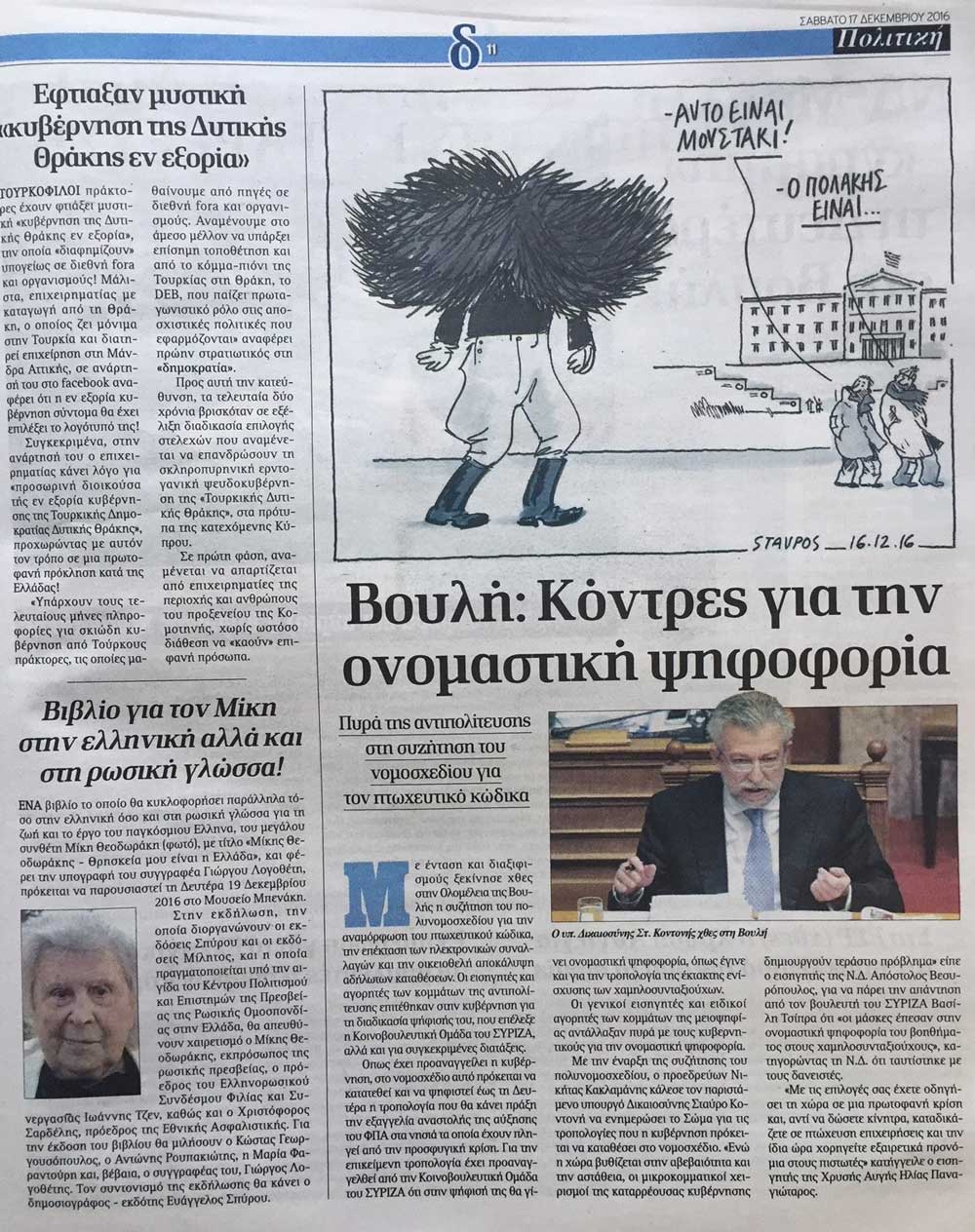 Στιγμιότυπο από την εκπομπή "Καλημέρα" του Γιώργου Αυτιά, στο ΣΚΑΙ, το Σάββατο 17 Δεκεμβρίου 2016